Likely Weather, What to Wear, What to Pack
Temperature
The month of April (based on average weather in Delaware) is characterized by rapidly rising daily high temperatures, with daily highs increasing from 58°F to 68°F over the course of the month, exceeding 78°F or dropping below 46°F only one day in ten.
Be sure to check the weather forecast just before you leave for the march so that you have the latest information on what to pack!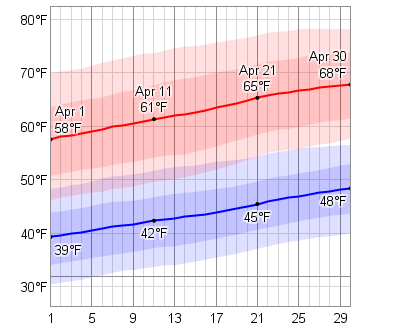 Daily low temperatures range from 39°F to 48°F, falling below 30°F or exceeding 57°F only one day in ten
Precipitation
The average probability that some form of precipitation will be observed in a given day is 43%, with little variation over the course of the month.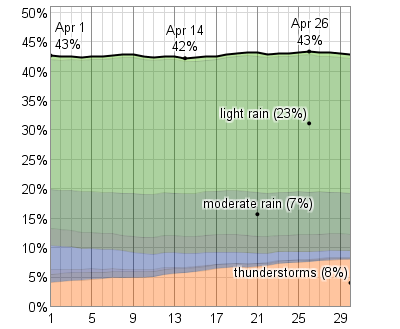 Sun
Over the course of April, the length of the day is increasing. From the start to the end of the month, the length of the day increases by 1:11 hours, implying an average day-over-day increase of 2.4 minutes.
The shortest day of the month is April 1 with 12:41 hours of daylight; the longest day is April 30 with 13:52 hours of daylight.
Dressing & Packing for the March
What to Wear:
Things you should have with you most days:
Thick Socks. (Have backups in case of rain or stink)
Hat (to keep the sun off your head)
Sunglasses
Good running, walking or hiking shoes
Lightweight outer wind jacket – bright reflective yellow is great!
Layers are a good idea because you can remove articles of clothing as you warm up during the march and put them back on during stops.
A note about cotton: veteran hikers will tell you that cotton fibers absorb water, so when you start to sweat after a few miles, be aware that it doesn't pass through to the outside where it can evaporate like it does with, for example, synthetic fleece. So, think about the type of material you want next to your skin.
Backpack:
You want to carry a small backpack to carry things that you'll need during your hike. Here is what you should put into it:
Sunscreen
Lip balm (i.e. Chapstick)
Water bottle (1 liter) or Camelbak or equivalent
Extra socks
Blister protection (band-aids, salve, etc.)
Medicines, contact lens fluid, etc.
What to Pack (in your "Big Bag"):
You want to have a duffle bag or equivalent for everything to be transported in the baggage truck during the day (remember, there will be little access to your packed belongings during the day, so be sure you have anything you'll absolutely need while walking stored inside your backpack).
Clothing for ten days
Cell phone charger
Toothbrush & toothpaste
Shaving cream, soap, shampoo
Vitamins, medicines
Towel
Eyewear
Sleeping bag and air mattress!
Rain:
April is known for its showers, so for rain, pack the following:
Rain pants
Rain jacket
Waterproof footwear
Footwear and rain gear should be tested prior to the march to be sure all are waterproof. Want to find out for sure? Put them on and go stand in the shower for a few minutes – if you're soaked then, you'll be soaked and miserable after a 15 mile march.
Cold Weather:
While there is only a 6% chance that we have cold weather, (egad, snow) consider packing the following items: 
Warm jacket
Warm gloves
Winter underwear (depending on the day)
Winter Boots (in case of snow)
Warm and thicker Socks. (Have backups in case of rain or stink)
Fleece pullover
Things to Consider When Choosing Your Clothing:
Our route will take us on paved roads, sometimes frozen or muddy shoulders and periodically while, sidewalks. Good hiking shoes are an option but so are a couple pairs of running shoes. If we encounter snow, boots will be needed, so be prepared. Walkers should figure out what works best for them. Remember, walking on paved roads isn't the same as walking on dirt trails and hiking paths. 
Footwear Options
All footwear should be broken-in & comfortable prior to the march. Don't put yourself through the torture of "breaking them in" during the march.
Boots:
When needed, they're good because they can be waterproof, provide more stability, will be slightly warmer, and won't deteriorate. Bad because they're heavier, might result in more blisters and are more difficult to break in. 
Running/hiking shoes:
Good because they're more comfortable, weigh less, dry out overnight, and probably won't result in too many blisters. Bad because they'll get wet easily, won't be as warm, will break down faster, and you may need an extra pair of them to make sure your feet stay dry. 
Jackets
Layering is the best recommendation here. Once we get moving, you'll start peeling off layers but as soon as we stop for a break, you'll start to get cold. We recommend a couple of fleece/wool layers that can be worn under a jacket, as well as a heavier (down or synthetic) jacket that is either waterproof or can be worn under a waterproof shell/jacket. Bright, light and very visible outer layers makes a huge traffic safety difference. Dress smart!